Help Choosing Wedding Rings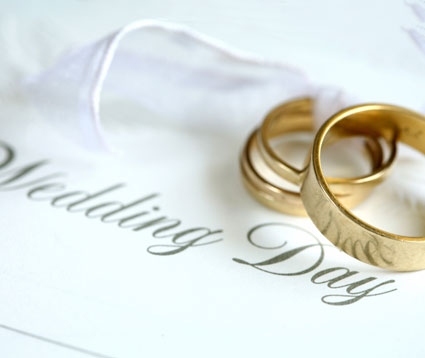 Choosing Your Wedding Rings
Introduction
Wedding rings are emotive things, people who put on a wedding ring are intending that that they will wear that ring from the day they marry until the end of their, or their partners' life. Therefore the choice of ring, or rings if you both intend to wear one, becomes particularly important. Added to this is that they can also be a fairly costly purchase in the scheme of things which adds to the pressure of ensuring you make the right choice. This blog has the intention of guiding you through the process of choosing your rings with the hope that you will always be happy with your choice literally for the rest of your life.
You will see from our selection of Wedding Rings the selection available
Step 1 – Decide our budget
It is perhaps obvious to say that the first thing you need to do is decide your budget. What must be considered at this point though is the durability and longevity you will look for in your wedding ring, not to mention the fact that it will be on permanent display, it may be worth paying a little bit more than you initially intended. So then the question then arises about how this can be financed. If you are lucky enough to have a large budget that could buy basically anything then you can move straight on to step 2.
However if, like most people there are limits to your financial resources then there are funding options to consider. We at The Beautiful Company offer both low prices and a range of options for you to finance your purchase. First of all we take most forms of card payment including debit and credit cards as well as Paypal for outright payment. We would not recommend using a credit card if you want to finance your purchase over a long term due to the interest rates charged. Bank of mum and dad is proving a popular finance option as interest rates tend to be very low to nil!
If you haven't got that option we offer payment plans both interest free and interest bearing from 6 months to 4 years through an online credit application to Pay4Later, an option you will see when checking out and reach the payment options page, and you will receive the ring as soon as its ready. We also offer an option where you can pay 10% up front and then pay off the ring with us over as long a period as you want with zero interest, though the rings are only sent out when full payment has finally been made.
What we also offer to make your budget go further is low prices, just compare us and you will see. If you are wondering how we have such low prices have read at another of our blogs Why is The Beautiful Company So Cheap?.
Step 2 – Choose the Metal for your Wedding Rings
What metal you choose for your wedding rings is of great importance as it drives cost, durability, how it feels on your hand and how it will match or complement the rest of your jewellery. For many couples, certainly for the woman the decision has already been made when the engagement ring was chosen. We would always recommend that the wedding ring the lady buys is the same as their engagement to avoid uneven wear caused by metals of different durabilities rubbing against each other from daily use. So the question is what are the benefits and disadvantages of each kind of metal, we list them below as hopefully a helpful quick reference guide.
In many ways this is the pinnacle of jewellery metal. Platinum is the hardest wearing, due to it being the densest metal on offer and is naturally white meaning there is no need to plate it as when its polished its' as shiny as it needs to be. However it is also the most expensive of the metals and, due to its density, it is also the heaviest. So if you are not used to wearing jewellery you may find its weight intrusive, on the other hand if you like to feel weight on your hand it becomes the best option.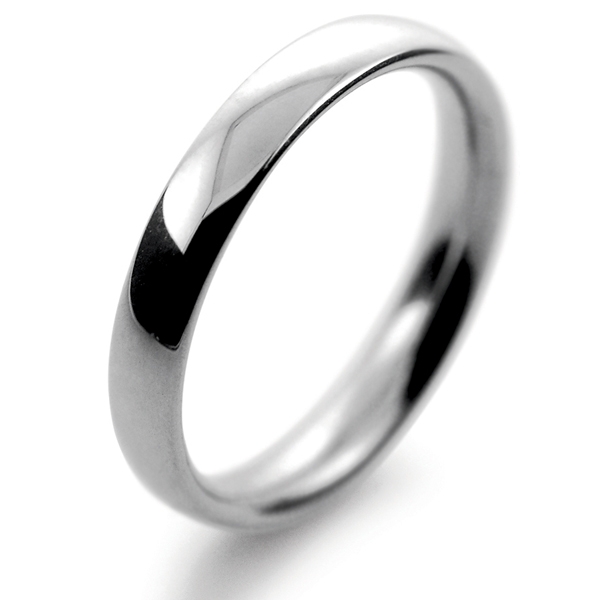 White gold has been very popular over the last few years and it is easy to see why. There is a lot of white gold jewellery out there and this metal, by definition, is simply the best match for it. It is available in 9ct as well as 18ct gold so there are lower priced options available for those who are on a budget and the shine in white is simply stunning. On the other hand gold, as you would have guessed, is naturally a yellow metal and white gold in its natural alloyed state still retains a bit of a yellow hue. Therefore white gold rings are generally plated with rhodium to enhance the whiteness and brightness of the metal. This is fine but depending on wear and tear this plating, however good it is, will wear off and the ring will need re-plating at some point. Not a big issue as most manufacturing jewellers will do it but it represents a hidden cost not immediately apparent when you buy the ring.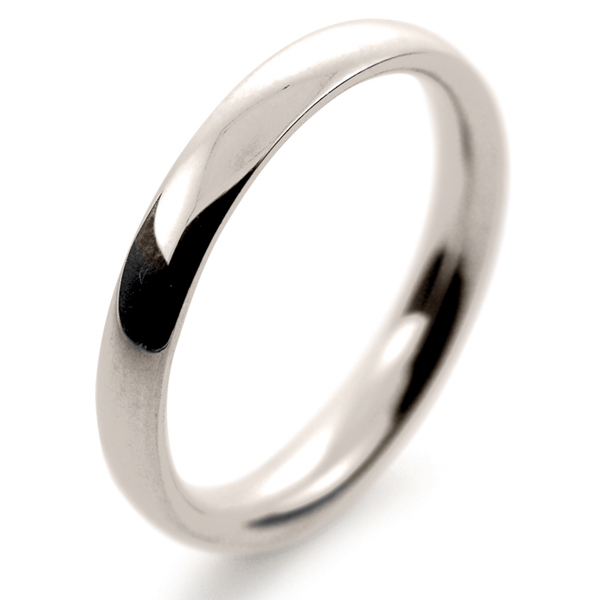 c. Yellow Gold
This is very much a colour choice more than anything. You either like yellow gold or you don't. If you do you can also choose between 9ct and 18ct depending on your budget and there are no plating issues to worry about. Yellow gold will retain its' colour for the whole of your life. There is no downside really to yellow gold it is less durable than platinum but should still be fine to last the lifetime of the wearer.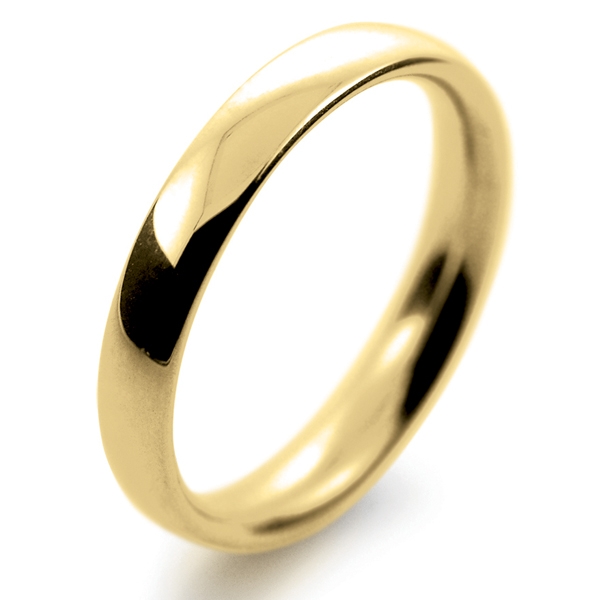 As with Yellow this is very much a colour choice - I have to say rose gold looks very nice on the hand it has been growing in popularity over the last few years. Again there are no plating or durability issues with this colour either.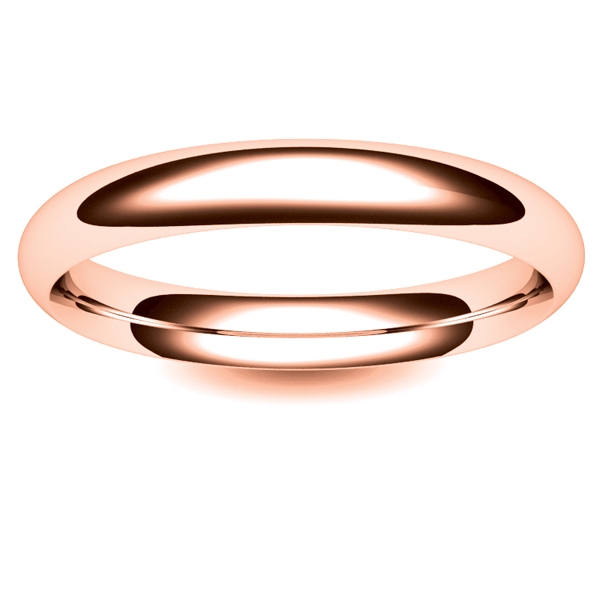 This has been classed as a precious metal since 2010 and received its own Hallmarks in 2012. It has increased in popularity massively since then and it's easy to see why. It is part of the platinum family of metals but is cheaper (and actually rarer) than platinum. It has a colour that is almost identical to platinum and you can only tell them apart by putting them closely together. It is lighter in weight than platinum so for those not used to jewellery (i.e. the men) it in many ways is more acceptable, it does not need plating and it is at least as hard wearing as gold though not quite as good as platinum. So to be honest this has become our favourite metal especially for the groom.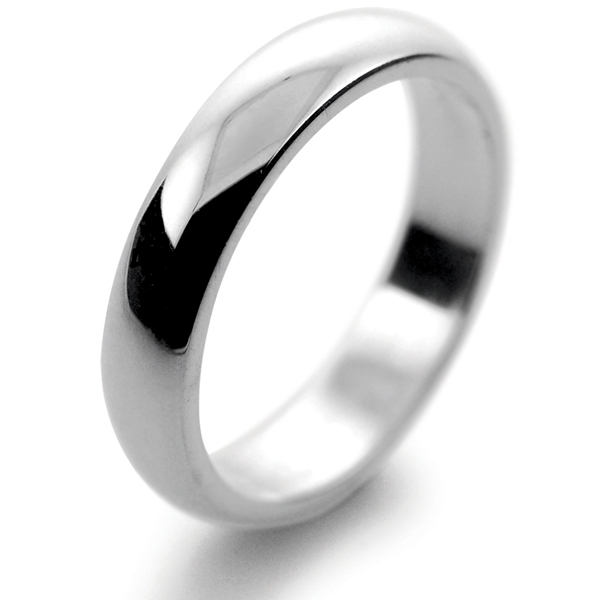 Step 3 – Choose the Style of your Wedding Rings
When we say style we really mean shape and the four most popular shapes and their respective benefits are as follows:
a. Traditional Court Shaped
As it says on the tin this is the most traditional profile. It is curved on the outside and curved on the inside. This is generally known as the comfort fit profile, the curved inside feels nice to wear with no sharp edges around. It can feel a little heavy in the heavier weights but people who buy those tend to do so because they like them.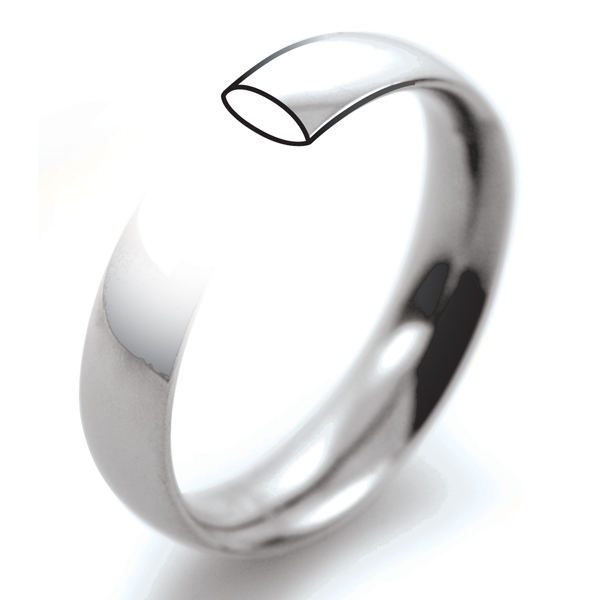 b. Slight Court Shaped
Similar to the traditional court but with a slightly flatter profile but still curved. Because it's flatter there is actually more metal in than in a traditional court. You can have the edges rounded or flat as well which is useful depending on the shape of your engagement ring.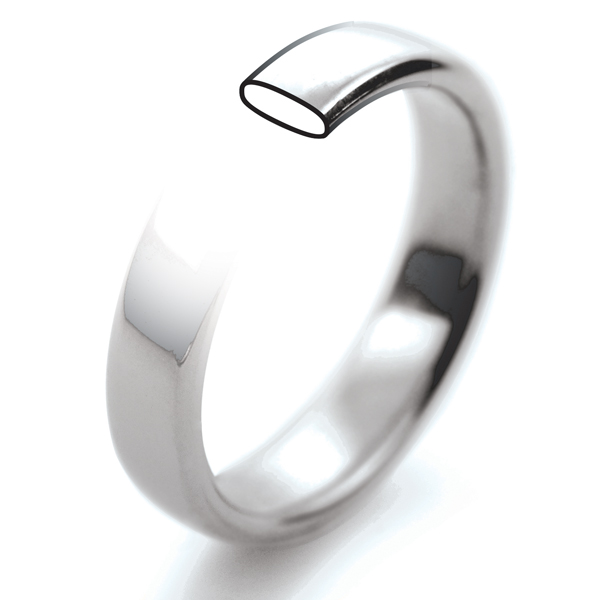 c. Flat Court Shaped
This profile has the same as a traditional court on the inside, so the same comfort feel, but with a flattened exterior profile, which quite a number of people prefer.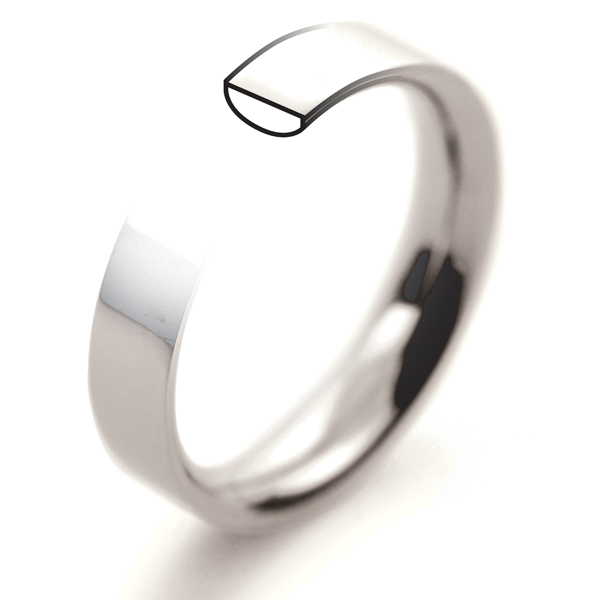 d. D Shaped profile
This profile is as it's described i.e. it's a D. It has the same curve on the outside as the traditional court but has a flattened interior which suits some preferences. The lighter thinner rings can feel a bit sharp on the edges.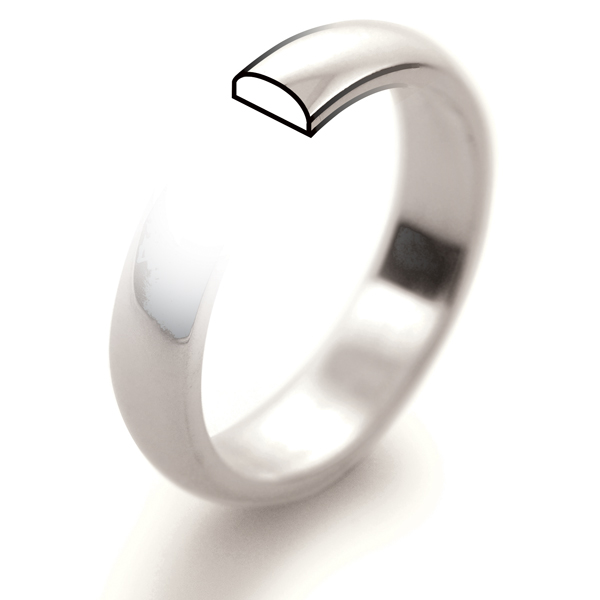 At the end of the day it will come down to personal preference for the men, and getting something that complements their engagement ring for the ladies.
Once you have chosen your profile it then the thinking should move to should you embellish your ring with a diamond or diamonds, patterns or engraving.
Step 4 – With Diamonds or without?
Adding diamonds to your ring really can bring a sparkle to it even if it is only as little as one diamond or really reflect the sunlight with a full blown diamond inlaid wedding ring. We give you an idea of what the two look like below. What you do comes down to budget. A single diamond can be added for as little as £40 to £50 whereas you would obviously be paying significantly more for the full blown version
Single Diamond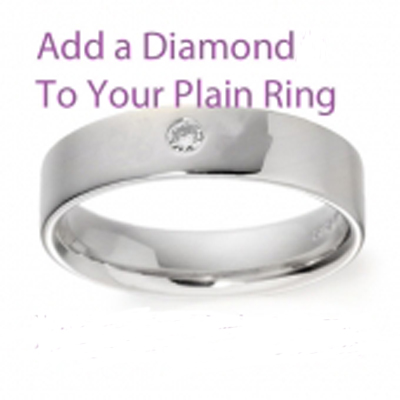 Multiple Diamonds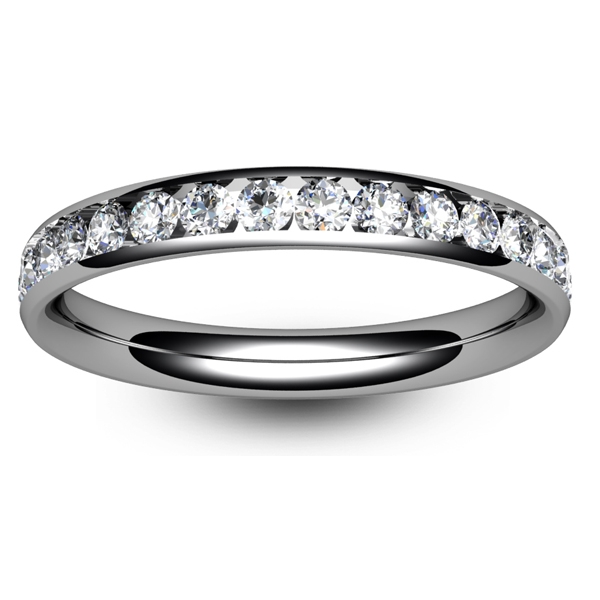 Step 5 – With a Pattern or without?
Adding a pattern can bring individuality to your ring, and, given that this tends to be done by only a relatively small percentage of people can make you stand out in a crowd. From simply having a matt finish on your plain ring or buying a designer patterned ring all these options are available from The Beautiful Company.
Step 6 – With Engraving

or without?
Adding a personalised message is probably the easiest and cheapest way of personalising your ring and we have gone one stage further by enabling you to add your or your loved one's fingerprint to the ring using an inkless fingerprint kit. For your message you can generally have up to 20 characters including spaces to fit it on the inside, though for larger sizes this could be more. If you wanted you could even put your message (or finger print) on the outside. There are number of different fonts you can choose from as well. So be creative!
Engraving Fonts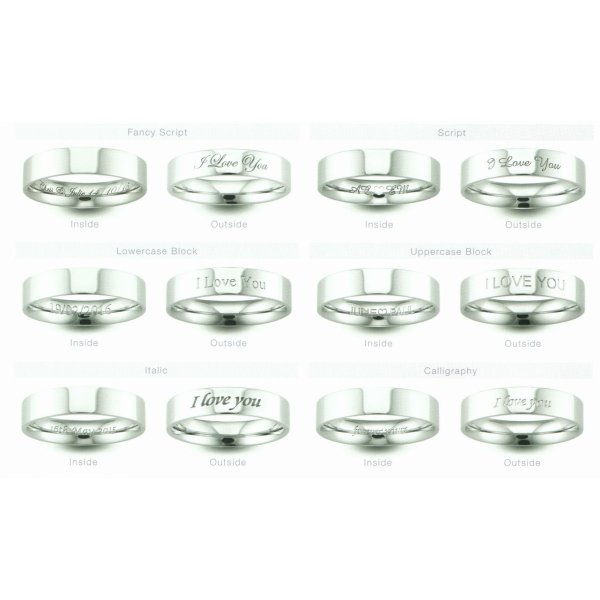 Fingerprint option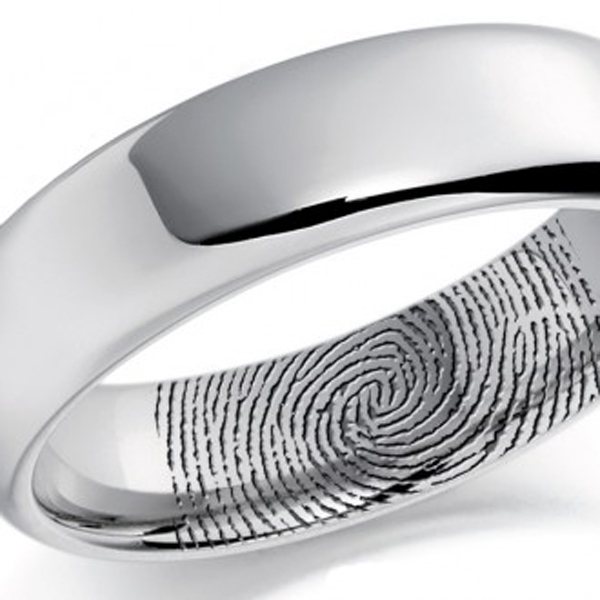 Step 7 – Adding Birthstones.
Birthstones are gemstones that over the centuries have become associated with your birth month. The Beautiful Company now offers the option of adding you and or your partners birthstones to your wedding ring to make it a truly personalised and precious symbol of your marriage. For more details see our information sheet on them.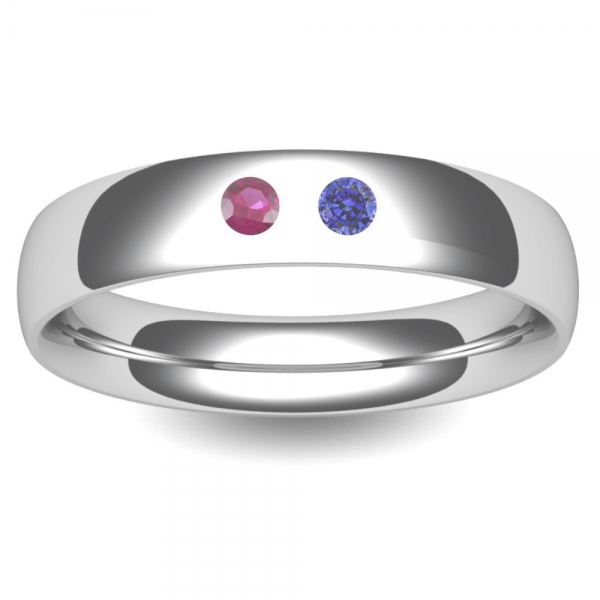 Step 8 - Choosing Your Payment Method
In Step you decided your budget and how you will finance your purchase, when the moment comes to buy you will have several options presented to you. Firstly full payment by a card either credit or debit card. Please be aware paying by credit card has more protections than paying by debit card but if you are dealing with a reputable company like The Beautiful Company this is not really an issue. Secondly there is full payment by Paypal which is increasingly popular and carries the additional benefits that you don't have to use your card details to buy. Then there are the finance options, we use Pay4Later to offer credit terms from 6 months interest free to 48 months interest bearing. With all the Pay4Later credit plans there is a credit check and an online credit application but you do get your rings as soon as they are ready. You can also pay in instalments to use with an initial payment of 10%, and you can plan the subsequent payments over as long as you like and for as much as you like but the rings aren't sent until full payment is made.
Step 9 - Sit down, relax, have a coffee (or something Stronger!).
Now you've been through the process and you are happy you have made the right choices you can safely sit back and knowing your rings are being sorted out by a reputable company with a high Trustpilot rating and many years in the business. So we take this opportunity to wish you a long life and happiness, you deserve it.
— Mark